Lake district hospitality
For Groups
Here you can find some example activities for groups in Niinisaari and Puumala. Let's be in touch and plan the perfect program tailored for your group!
Visit to Lasiruusu glassmithy
Gaj Tereschatoff, a member of one of the oldest glassblowing families in Finland, runs the Lasiruusu studio in the village centre of Puumala. You can watch the glassmith skilfully create a Ringed Seal, a Black-Throated Loon or a vase. The spacious shop also offers a great view of Saimaa and the Puumala marina.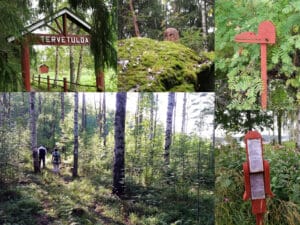 Forest Wellbeing Tour
from 120  €/group
max. 20 persons
Guided trekking tour on the Metso Wellbeing Trail (1.5 km), in Niinisaari's grove, introduces you to the diversity of the forest and gives you a little taste of how forest can affect wellbeing. The local guide will familiarize you with both the history of the region and the positive health effects of the forest. Duration approx 45 minutes.
Baking pies with Paula
from 300 €/group
max. 12 persons
Hostess of Okkola Farm, Paula, guides you to the secrets of baking Finnish berry pies or traditional salty karelian pies in her own kitchen.
Alongside baking pies you will get acquainted with genuine Finnish country house. As well with Paula you will get familiar with rural entrepreneurship, local flavours and authentic Savo region's hospitality. Incl. light lunch. Duration approx 2.5 hours.
Visit to Mirri's and Minttu's garden
5-50 pax.
50 €/group
The gardener tells about summer flowers and herbs. Duration approx 30 minutes.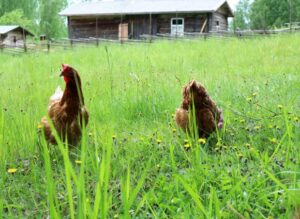 Visit to Liehtalanniemi museum farm
3 €/ person (min 10 pax)
The Liehtalanniemi Museum Estate and nature reserve, tucked in a sheltered cove on Niinisaari, will take you back in time. See what life was like in the archipelago in the beginning of the 20th century and hear the story of Jalmari Reponen, the last owner of the estate.
Work demonstration in the smithy
from 200 € / demonstration
max. 20 persons
In this work demonstration the guests have an opportunity to see the blacksmith demonstrating some live forging, the traditional work of village blacksmith, and hear more of Finnish way of life and countryside family business. The work demonstration's topic will be agreed according to the wishes of the group.
Catering Service to the Villas
You can order from Niinipuu's kitchen ready meals or delicacies delivered to your Villa. Orders must be submitted 1 week prior to the start of your holiday.
Tip: Our specialties are plank-roasted salmon and rye blueberry pie.
Reservations: Paula, tel.+358 500 259378 or paula@okkola.fi
Homemade bread,
cucumber, tomato,
cheese, cold cuts,
porridge bags, yogurt,
fresh juice, coffee/tee
2 salads
homemade bread
and according to your choice:
soup or
potato cassarole with ham or
vegetable option
2 sort of salads
2 sort of homemade bread
Meat Casserole and creamy potatoes
Dessert
We recommend
Plank-roasted salmon 
(file) 30 €/kg
Slow-roasting makes a beautifully tender, evenly cooked, not-one-bit-dry piece of salmon. Orders day before delivery.
Taste local delicacy: rye-blueberry pie.
Berry gateau
from 38  € (for 10 persons)
A rich cake, typically one containing layers of cream and berries or jam. Filling according to your own taste. In summertime strawberry cake is very popular.