Surpassing expectations
Seventeen ways to live like a lord – or in a more traditional cottage style. All of our cottages are on the shore of Lake Saimaa. The cottages and villas are individually designed for the sites where they are built.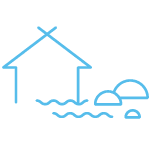 PEACE AND QUIET
Thanks to the rugged, undulating shoreline, each holiday home genuinely has its own slice of peace and quiet. Every cottage has its own sauna or two, a pier, a rowing boat and as much peace and quiet as you could need.
A HOLIDAY FOR AS LONG AS YOU WANT
You can book accommodation for as long as you would like to stay – we do not require week-long bookings. Many customers enjoy staying with us for several weeks at a time in the summer, one year after another. You can use your cottage from 3pm on the day you arrive until midday on the day you depart.
FULLY EQUIPPED FOR A HOLIDAY
All of our cottages are connected to the electricity, each has its own peace and quiet and its own beach, and you will also be able have the use of a wood-burning sauna and a rowing boat. You will always find all the necessary pots, pans and tableware in the kitchen, along with a coffee machine, a microwave oven and a stove. You can use your own bedlinen or rent it from Okkola. Every cottage also has a television.
Find out more about our cottages
VILLAS
TRADITIONAL SUMMER COTTAGES
All pets are welcome without extra charge!